St Louis Park Sr

High School




Class Of 1963
Welcome to the St Louis Park Sr High Class Of 1963 web site.
If you are interested in helping with the website or any other aspect of the Reunion please contact us by clicking on the CONTACT LINK.
Please fill in the profile information with anecdotes, information and other memories. We hope to keep this Website long term.
Watch for an annoucement coming soon concerning August 22 2015!!!
On Sept 17, the SLPHS Sports Hall of Fame will induct the SLPHS 1963 State Track & Field Championship team. The team includes: Mr. Eugene Wright, Bruce Fisher, Bob Howe, Chuck DeRemer, Bob Wagner(Sophmore), Gerry Brouwer, Mike Gillham, Phil Homme, John Valentine, Mr. Roy Griak.
The ceremony & banquet will be held at Golden Valley CC. It's open to the public.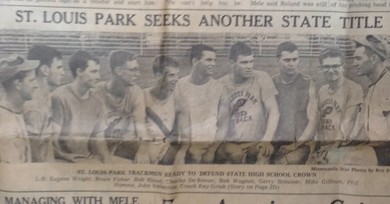 *********
Do you remember 1955?
The Broadway musical version of Peter Pan is presented on NBC-TV
Ray Kroc opened his first McDonalds in Des Plaines, IL.
The $64,000 Question and Gunsmoke premiered on CBS-TV and the Mickey Mouse Club, on ABC-TV; the film Lady and the Tramp premiered in Chicago, IL.
Disneyland opened in Anaheim, CA.
Rosa Parks refused to give up her seat on a Montgomery, AL bus to a white passendger and was arrested - leading to the Montgomery Bus boycott.

AND. . .
It was our 10th birthday. Cake and Ice-cream. Poodle skirts, penny loafers and ponytails. Little League and Mickey Mouse Club. Nary a care in the world. Just kids. . .
**
Do you remember 1965?
The first SDS march against the Vietnam War drew 25,000 protestors to Washington, DC. Later in the year, tens of thousands of Vietnam War Protesters picketed the White House, then marched on the Washington Monument.
President Lydon Johnson signed the Social Security Act of 1965 into law, establishing Medicare and Medicad.
The Beatles performed the first stadium concert in the history of rock, playing before 55,600 persons at Shea Stadium in New York City.
Bob Dylan released his Highway 61 Revisited album, featuring the song "Like a Rolling Stone".
Charlie Brown Christmas, the first Peanuts television special, debuted on CBS, starting an anual tradition.
AND. . .
We celebrated our 20th birthday. 20! A teenager no more. And yet. . .still having fun. Turning 20. Youth. Freedom. Anticipation. Anxiety.
**
Do You Remeber 1975?
The United Nations proclaimed International Women's Day.
Wheel of Fortune premiered on NBC.
South Vietnam surrendered unconditionally after Communist forces from North Vietnam take Saigon, resulting in mass evacuations of Americans and South Vietnamese.
One Flew Over the Cuckoo's Nest took nearly every major Academy Award, including Best Picture, Best Actor, Best Actress, Best Director and Best Adapted Screenplay.
AND
We celebrated our 30th birthday. How did that happen??? Wasn't the message never trust anyone over 30??? Turning 30. Trauma. Adjustment. Maturity. Responsibility. Ambition.
**
Do you Remember 1985?
WrestleMania debuted at Madison Square Garden.
Mikhail Gorbachev became General Secretary of the Soviet Communist Party and de facto leader of the Soviet Union.
Pete Rose became all-time hit leader in Major League Baseball, with his 4,192nd hit at Riverfront Stadium in Cincinnati.
The first Nintedo home game console was released.
AND
We celebrated our 40th birthday. Getting older. Was that a gray hair? It's okay; just part of life. Turning 40. Hectic. Demanding. Challenging
**
And, do you remember 1995?
The Alfred P. Murrah Federal Building in Oklahoma City was bombed, killing 168 people.
eBay was founded.
O.J. Simpson was found not guilty of double murder for the deaths of his former wife, Nicole Simpson, and her friend, Ronald Goldman.
Israeli Prime Minister Yitzhak Rabin was assassinated at a Peace rally in Tel Aviv.
AND
We celebrated our 50th birthday. What was it Gloria Steinem said? "This is what 50 looks like." Grandma! Grandma? I remember my own grandmother - is that me now??? Turning 50. So many "me's" and so many thoughts: Keep moving up that ladder - but stop to smell the roses. Success - and conflict. Reflection. Self-evaluation. Conviction.
**
And then, do you remember 2005?
You Tube, the most popular video sharing website, was founded.
Hurricane Katrina made landfall along the U.S. Gulf Coast, causing severe damage and taking over 1800 lives.
Angela Merkel assumed office as the first female Chancellor of Germany.
Surgeons in France carried out the first human face transplant.
AND
We celebrated our 60th birthday. Making plans. Retirement looms. When do you sign up for Medicare/ What's the hit on early retirement? The benefits of working longer? What to resolve before I go? This has been my life - what will I do with my time? Leaving behind - looking a head. Turning 60. Approaching Change. Anticipation. Anxiety. (Again.)
**
And what of 2015???
Who knows??? But we do know one thing: We will turn 70!
Surprise: there is life after retirement. Creativity. Learning. Adventure. Potential. Life is good. No Surprise: there is joy in contunuing to share good times with old friends.

So - we will celebrate our 70th birthday - together. The Reunion Committee (which never disbanded after our 50th reunion last year), is planning an informal get-together for any member of the St. Louis Park High School Class of 1963 to celebrate the year of our 70th birthdays. Save the date Saturday August 22, 2015 from 1:00 PM until 6:00 PM at Sherm's in Bunny's in St Louis Park 4730 Excelsior Blvd. We will have a cake. This is an open bar and food menu.
We will send information as plans come together. Everyone who is able to join us - and would like to do so of course is - welcome.
**
Dear Class of 1963
Thank you for choosing me for the scholarship, I greatly appreciate it. The scholarship will be of great use to me when I pursue my career in becoming a journeyman technician and later on to become an electrical contractor.I felt I should add what I will be doing with the scholarship.
It is very helpful especially since I have to work full time hours to help with my family's expenses, it would be difficult to pay for the apprenticeship program I'm doing.
Once again Thank You from the bottom of my heart.
Juan Tellez.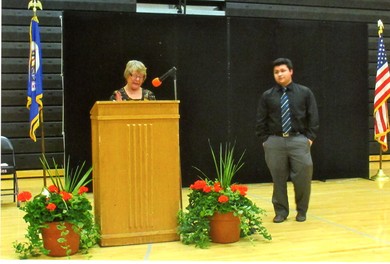 Photo of Juan Tellez receiving scholarship from Karen (Rogers) Gleason