St Louis Park Sr

High School




Class Of 1963
Welcome to the St Louis Park Sr High Class Of 1963 web site.
If you are interested in helping with the website or any other aspect of the Reunion please contact us by clicking on the CONTACT LINK.
Please fill in the profile information with anecdotes, information and other memories. We hope to keep this Website long term.
Watch for an annoucement coming soon concerning August 22 2015!!!
We have received many requests asking how do I stop receiving this notification or that notification.
Here are the steps to do exactly that.
On the left hand side of the page go to Notify Me
When that page opens you will see a list of notifications and a drop down menu which has three options
1. Email
2. Facebook globe ( only you have chosen to use facebook on this page)
3. Email and Facebook
Make your choice.
You will also see a list of notifications and each one has a range of choices
Immediately
Once Daily
Never
Make your choices and save the page.
At the bottom you will see a list of all Classmates and you can choose who you want to receive notification from.
****
Please take the the" Interest in 70th Birthday Survey" on the left had side of the page.
Thank you the Reunion Committee.

**
Dear Class of 1963
Thank you for choosing me for the scholarship, I greatly appreciate it. The scholarship will be of great use to me when I pursue my career in becoming a journeyman technician and later on to become an electrical contractor.I felt I should add what I will be doing with the scholarship.
It is very helpful especially since I have to work full time hours to help with my family's expenses, it would be difficult to pay for the apprenticeship program I'm doing.
Once again Thank You from the bottom of my heart.
Juan Tellez.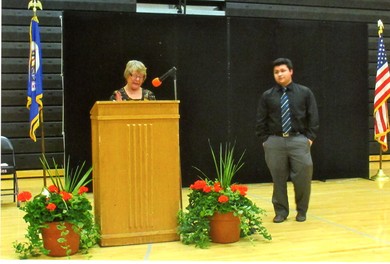 Photo of Juan Tellez receiving scholarship from Karen (Rogers) Gleason